About Sacred Circle Dance
A gentle healing way to
Bring body, mind and spirit together
Relieve daily stress
Release creative energy
Feel centred and connected
But this form of dancing can become addictive.
Why?……
The feeling of moving rhythmically in a circle is both relaxing and energising,
the steps are simple, carefully taught, easily learnt,
the music is a rich mix of traditional, classical, reggae, pop, ethnic…
and the sense of community, of belonging, even of 'coming home' is invigorating.
The circle is a symbol for unity, for community. The circle is the oldest form of dance on the earth. It allows everyone, whatever age or background, to feel safe to relax and discover the joy of dancing.
The dancers hold hands and the circle moves as a unit so there are no concerns about being watched, making a fool of yourself, getting it 'wrong'! It's not just about getting the steps, but about enjoying the spirit of the dances and the sense of oneness and peace that moving rhythmically in a supportive circle can bring.
Where does it come from?
Back in the mid seventies an extraordinary German Ballet Master, Bernhard Wosien, who had a passion for Folk Dance, took some of the dances he had collected on his travels through Europe to the spiritual community of Findhorn in Scotland. He intuitively knew that these dances contained energies that the world so needs now, and would help heal the rift between humanity and the Earth, the separation between us and our roots. It is as if these old dances contain a code, a code which Bernhard saw it is now time to break so that their healing would be available to help us through these huge changes on the earth.
The ancient dances of Europe fused with the new Aquarian energy at Findhorn and 'Sacred Dance', as it was then called, was born. From those early days, when Bernhard passed on the old dances together with some of his own choreography, to a committed few at Findhorn, the Dance has spread world wide.
So where can I dance?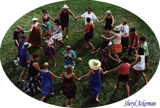 There are now very few towns in Britain that do not boast at least one regular Circle Dance group. There are also circles throughout Europe, US and Canada, Australia and New Zealand, Africa and South America.
For June's events.
For more events contact Grapevine circledancenetwork.org.uk